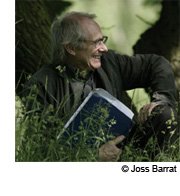 The announcement was made on July 12 : it is the British filmmaker Ken Loach who will receive the 4th Lumière Award in this year's edition of the Lumière festival, to be held in Lyon and Greater Lyon from October 15 to 21.
The Award ceremony will take place on Saturday, October 20 at 6:45 pm at the Amphithéâtre Centre de Congrès de Lyon in the presence of many guests including producer Rebecca O'Brien and screenwriter Paul Laverty, both associates of Ken Loach in Sixteen Films.

The film to be screened during the award presentation evening will be Looking for Eric.
It is Bertrand Tavernier, President of the Institut Lumière, who will give the speech to praise the accomplishments of Ken Loach. Mr. Tavernier has also presented the cinema achievements of Clint Eastwood, Milos Forman and Gérard Depardieu in past editions.
The award will be presented by Eric Cantona, one of the two main actors in Looking for Eric, with Steve Evets.
As is also the tradition of the award, Ken Loach will present a selection of his films in Greater Lyon and will answer questions from the press on Sunday, October 21 in the late morning.
Tickets on sale from Tuesday, September 18 at 4 pm at www.festival-lumiere.org,
ot +33 (0)4 78 76 77 78 or at the reception desk